The party's manifesto and Jeremy Corbyn were main draws for Labour supporters
Jon Stone Political Correspondent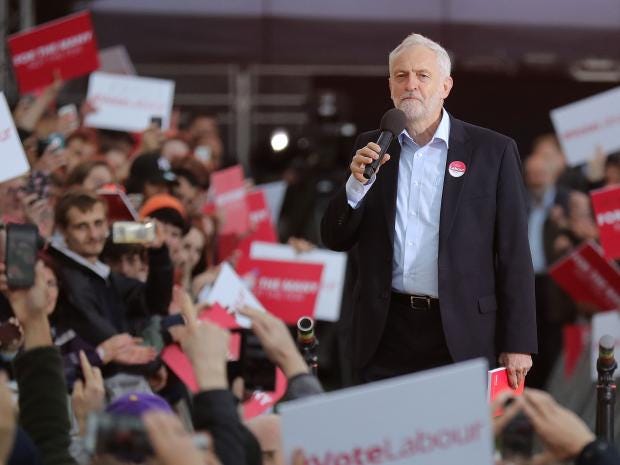 Just six per cent of Labour voters backed the party primarily because of their local candidate or MP, a new study of the party's supporters has found.
YouGov found that more people voted Labour because of the party's socialist manifesto, because of its leader Jeremy Corbyn, or because they wanted to stop the Tories than any other reasons.
28 per cent of people said they backed the party because of its manifesto, 15 per cent because they were anti-Tory, and 13 per cent because of Mr Corbyn, the pollster says.
Other reasons included 12 per cent who said the party offered fairness or hope for the many, and 8 per cent specifically because of the party's approach to the NHS.
Local loyalty to an MP or good candidate was picked by just six per cent, roughly the same number as those who specifically cited the policy to scrap tuition fees (four per cent) or who said they had simply always voted Labour (five per cent).
During the early stages of the general election campaign many Labour MPs reported de-emphasising the national party and Mr Corbyn from their campaign literature in the hope that their own personal votes would help them keep their seats. In one of the most extreme examples, MP John Woodcock, in Barrow-and-Furness, said he would not vote for his party leader to become Prime Minister should the opportunity arise.
The findings come amid an internal debate in Labour about whether local party members should have more power over selecting who the party's candidate in their seat is.
Opponents say sitting MPs have a personal mandate from the electorate and should not have to face additional selection measures to backed by Labour resources and activists.
Those who want to change the rules say the parliamentary party should more reflect the views of the leaders and the membership – after years of criticism and briefing by MPs against Mr Corbyn peaking at a no-confidence vote last year.
Under the Labour rulebook MPs currently have to face a "trigger ballot" by party members, though this rule was suspended by the paty's national executive at the most recent election. The Campaign for Labour Party Democracy has proposed an amendment to this rule to make members' powers stronger, though it says the proposal stops short of "mandatory reselection" of MPs at every election.
A concurrent poll of Tory voters showed that their main reasons for backing the party were Brexit (21 per cent), that they were anti-Labour (16 per cent) or anti-Corbyn (14 per cent).
Other concerns were agreement with Tory policies (10 per cent) or that they were the "best of a bad bunch" (8 per cent).
Source: http://www.independent.co.uk/news/uk/politics/labour-voters-reasons-jeremy-corbyn-manifesto-local-mp-mandatory-reselection-a7840856.html