Dan Jarvis says he would feel uncomfortable standing as candidate for party committed to nuclear disarmament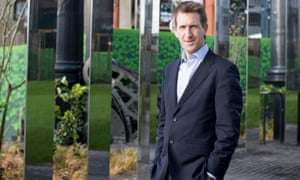 Dan Jarvis suggested he regretted his decision not to contest the Labour leadership. Photograph: Alicia Canter for the Guardian
The former shadow justice minister told the Guardian in an interview: "To my core I have always been Labour and always will be, but I would feel deeply uncomfortable fighting as a Labour candidate on a manifesto that committed us to getting rid of our nuclear deterrent, not least because we would lose the election. It's an issue of such strategic importance with the public that it would be catastrophic for us to go into an election with that as our policy."
Jarvis's remarks are the first admission by a senior party figure that they would feel uncomfortable standing as a Labour candidate under an anti-Trident banner. Corbyn, a longstanding member and current vice-president of the Campaign for Nuclear Disarmament, intensified his effort to change policy by replacing the pro-Trident Maria Eagle as shadow defence secretary with Emily Thornberry, who is opposed to Trident.
John McDonnell, the shadow chancellor, suggested after Thornberry's appointment that the process of determining the party's policy on Trident before a Commons vote on the renewal of the programme would be accelerated in a new consultative process. Some Labour supporters of Trident are confident the leadership will fail to push through a policy change because the large trade unions, Unite and the GMB, which have thousands of members in the defence industry, will not abandon their support for Trident.
Jarvis said he was dismayed by the decision to move Eagle to the post of shadow culture secretary because it now meant the two co-convenors of the party's defence review – Thornberry and Ken Livingstone – were both unilateralists. "I was much more comfortable with it being led by two people [Eagle and Livingstone] who had different views," Jarvis said. "That gave it balance. We've lost that, which potentially weakens and undermines the process. For it to have any credibility, it needs to be seen to be open-minded."
Jarvis suggested in the interview that he regretted his decision not to contest the Labour leadership. As a former paratrooper, who became the first serving officer since the second world war to resign his commission to become an MP, Jarvis was seen by many as a strong candidate, with a classic US-style "back story".
"I'm not a great one for regretting anything," Jarvis said. "But what I do regret is that I didn't give it more thought beforehand."
Kevan Jones, a supporter of Trident who resigned as shadow defence minister in protest at the appointment of Thornberry, said he would still stand as a Labour candidate even if the party supported unilateralism. "I would do what Denis Healey did in 1983 and what Jeremy Corybn did in 2015."
The late Healey, a supporter of multilateral nuclear disarmament, was shadow foreign secretary in 1983 when Labour fought the election on a policy of unilateral nuclear disarmament. Corbyn was re-elected in 2015 on a Labour manifesto that supported Trident.